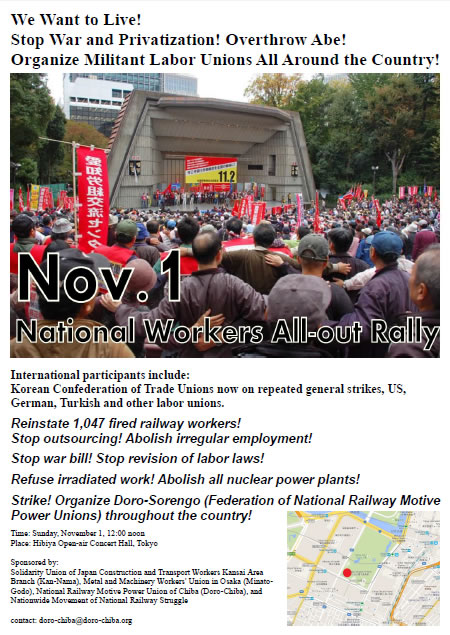 Dear friends all over the world,
On Sunday, November 1, we hold our biggest annual rally with participation of labor unions and workers from all across the country. And we have an international labor solidarity rally together with our friends from around the world on October 31, the preceding day.
We wholeheartedly ask you to attend the both rallies.
The Abe administration railroaded the war bill in the Lower House on June 15 and 16, and follows through on it in the Upper House in the middle of September. Hundreds of thousand people are protesting against this outrageous war mongering every day all around the country.
A conversion to war state would inevitably set free a wild drive at home to destroy all the existing social order and system, such as all labor rights, freedom of assembly and association, freedom of speech and communication and so on. And every public system, such as railway system, education, medical services and even municipalities would become the targets of total dismantling.
Thus capitalism in death agony is conducting brutal war everywhere in the world, Middle East, Ukraine and East Asia, and pressing forward its nuclear policy amid the ongoing catastrophe never experienced in the human history.
It is the common struggle for all workers of the world to fight against deregulation, privatization, outsourcing, casualization and war.
On June 30, the Supreme Court denied Doro-Chiba's appeal of the reinstatement of fired 1047 railway workers case at the time of the Division and Privatization of Japan National Railways (JNR) in 1987. However the Court was obliged to clarify admit that Japan Railways (JR, the privatized companies of JNR) and the state power itself had committed thereby unfair labor practices. This is a historical initiative to win.
Stop privatization and outsourcing!
Let's revive militant labor movement all around the world!
Stop war by international workers' strike!
Go ahead in front of the anger and anxiety of workers for the dangerous ongoing trend and gather their anger into action!
We, three labor unions, Doro-Chiba, Kan-Nama and Minato-Godo, and Nationwide Movement of National Railway Struggle, officially ask all of you fighting brothers and sisters of the world to join us in the National Workers All-out Rally on November 1, sponsored by these organizations.
On the preceding October 31, the International Workers Solidarity Rally is held to raise angry voices of working people of the whole world. You are also earnestly expected to attend it.
As for the expenditure during your stay in Japan, including the hotel charges, will be covered by us. We are waiting for your positive response.
September 2015

Yasuhiro TANAKA, President of Doro-Chiba
Hiroyuki YAMAMOTO, General Secretary of Doro-Chiba International Labor Solidarity Committee